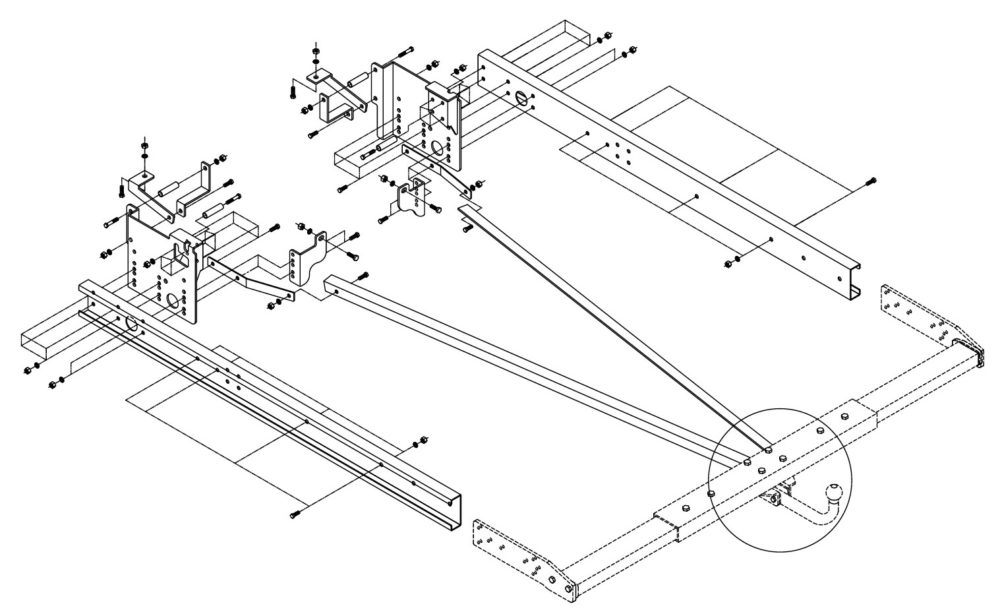 Strengthened by our many years of experience, we have included in our production the universal towing beam for campers, as well as a complete series of specific attachments and extensions for each frame. Today we are able to provide a tow hook with almost any camper circulating on the road.
SPECIFICATIONS OF OUR TOW HOOKS FOR CAMPERS
The extensions of the camper frame together with the trailer attachments are a precious resource, which makes their combination more and more essential if we want to fully enjoy our air conditioning during the holidays, helping us to carry everything we want and need. . From now on, the transport of motorbike, parcel or bike carriers will no longer be a problem.
Our selection of frame extensions, attachments and control units is based on not only aesthetic but above all technical criteria. Our extensions and tow hooks are characterized by their ease of installation, their high quality and their competitive price, without neglecting the fact that they enjoy European approval according to Directive 94/20 / EC or Regulation R55.
Umbra Rimorchi has always been synonymous with guarantee and reliability: we are specialists in accessories for the transport of campers, combining quality and technical rigor to offer customers truly functional products at competitive prices. For all information, please contact us. We will be happy to illustrate all the technical specifications of your products and choose the hook that is right for you.
If you want to transport motorcycles, bicycles or tow, the choice must be carefully evaluated and various technical and functional aspects must be taken into consideration. Contact us for all additional information and choose the right hook for your needs.
CATALOG TOWBARS FOR CAMPERS
List of camper hooks and connections
Complete list with code, description and instructions
| Code | Description | Extension | Instructions |
| --- | --- | --- | --- |
| 186000300011000000 | TOWBAR MOTORHOME SLIDING FIXED TOWBALL | / | 60003 |
| 186000300021000000 | TOWBAR MOTORHOME SLIDING C TOWBALL | / | 60003 |
| 186000400001000000 | HITCH FIAT DUCATO 250 '06, CITROEN JUMPER Y '06, PEUGEOT BOXER Y '06 | A | 60004_00 |
| 186000401001000000 | HITCH FIAT DUCATO 280/290 1981-1993 | B | 60004_01 |
| 186000402001000000 | HITCH FORD TRANSIT FT150 SHORT WHEELBASE UNTIL 2000 | B | 60004_02 |
| 186000403001000000 | HITCH FORD TRANSIT FT150 LONG WHEELBASE UNTIL 2000 | B | 60004_03 |
| 186000404001000000 | TOWBAR MOTORHOME SLIDING FIXED TOWBALL | B | 60004_04 |
| 186000405001000000 | TOWBAR MOTORHOME SLIDING C TOWBALL | B | 60004_05 |
| 186000406001000000 | HITCH FIAT DUCATO 250 '06, CITROEN JUMPER Y '06, PEUGEOT BOXER Y '06 | B | 60004_06 |
| 186000407001000000 | HITCH FIAT DUCATO 280/290 1981-1993 | B | 60004_07 |
| 186000408001000000 | HITCH FORD TRANSIT FT150 SHORT WHEELBASE UNTIL 2000 | B | 60004_08 |
| 186000409001000000 | HITCH FORD TRANSIT FT150 LONG WHEELBASE UNTIL 2000 | B | 60004_09 |
| 186000410001000000 | 2POSITIONS LOWERING KIT AL-KO FRAMES AND MOTOHOME WITH EXISTING EXTENSION BARS | / | 60004_10 |
| 186000411001000000 | HITCH MERCEDES SPRINTER, VW CRAFTER 316 SINGLE WHEEL AFTER 2006 | B | 60004_11 |
| 186000412001000000 | HITCH MERCEDES SPRINTER, VW CRAFTER 316 SINGLE WHEEL UNTIL 2006 | B | 60004_12 |
| 186000413001000000 | HITCH MERCEDES SPRINTER, VW CRAFTER 416 TWIN WHEEL AFTER 2006 | B | 60004_13 |
| 186000414001000000 | HITCH MERCEDES SPRINTER, VW CRAFTER 416 TWIN WHEEL UNTIL 2006 | B | 60004_14 |
| 186000415001000000 | 5POSITIONS LOWERING KIT AL-KO FRAMES AND MOTORHOME WITH EXISTING EXTENSION BARS | / | 60004_15 |
| 186000417001000000 | HITCH IVECO DAILY BLACK FRAME UNTIL '06, '06-'14 | B | 60004_17 |
| 186000418001000000 | HITCH FORD TRANSIT WITH PLATFORM '14 | B | 60004_18 |
| 186000419001000000 | HITCH RENAULT MASTER X62 NORMAL '10 | B | 60004_19 |
| 186000420001000000 | HITCH RENAULT MASTER WITH PLATFORM '10 EXTENSION BARS 550MM | BOX | 60004_20 |
| 186000421001000000 | HITCH RENAULT MASTER WITH PLATFORM '10 | B | 60004_21 |
| 186000430001000000 | HITCH FIAT DUCATO 250 '06 EXTENSION BARS 2000MM | C | 60004_00 |
| 186000431001000000 | HITCH FIAT DUCATO 280/290 1981-1993 EXTENSION BARS 2000MM | D | 60004_01 |
| 186000460001000000 | HITCH FIAT DUCATO 250 '06 EXTENSION BARS 1700MM | E | 60004_00 |
| 186000464001000000 | HITCH FORD TRANSIT FT350 TWIN WHEEL FROM 2000 EXTENSION BARS 1700MM | F | 60004_04 |
| 186000468001000000 | HITCH FIAT DUCATO 230/244 94-06 NORMAL EXTENSION BARS 1700MM | F | 60004_08 |
| 186000477001000000 | HITCH IVECO DAILY BLACK FRAME UNTIL '06, '06-'14 EXTENSION BARS 1700MM | F | 60004_17 |
| D Value | S Value |
| --- | --- |
| 14,5kN | 150Kg |
Umbra Rimorchi offers you everything you need
for transportation with your camper